Goldair Portable Air Conditioners give you all the functionality of a fixed air conditioner/heat pump all from within the one portable and handy device.
But because there is no outside unit to remove the unwanted air from the room, you must install the window kit we provided with your Portable Air Conditioner.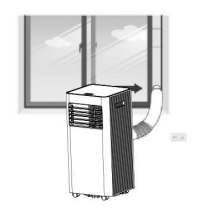 When in Cooling Mode, the device will push cool air out the front and hot air out of the back and vice versa in Heating Mode. If you do not connect the window kit and expel the unwanted air out of the room, you will not be able to cool or heat the room up, you will just move the air around a bit!
The instruction manuals for both Goldair provided window kits (plastic bar for sliding windows and material for universal window types) are attached in this article.
Have further queries about installing your window kit or Portable Air Conditioner? Contact our friendly customer service team and we'll be in touch as soon as possible.